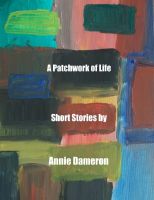 Synopsis:
Life is a journey and our unique experiences define the tapestry of our lives. Some events are extraordinary, others are mundane, but they all sum up who we are. The fabric may be ragged in places, yet each person has their own dazzling patchwork.
Seven short stories illustrate how we are all connected to one another. "The Journey" is a metaphorical journey through life, with all its perils and dangers that come with it. "The Wedding Dress" traces the history of one beautiful gown through three generations. In "Mail Call", getting junk mail may not be the worst thing that ends up in your mail box. Esme tidies up hotel rooms in "The Making of Beds"  and realizes the smallest clues from a single room reflect its temporary occupants. Who is sending invitations with one single word: "Available"?  A special needs student recalls a very special teacher in "An Apple for Miss Margaret", and Mei finds the meaning of family in "Food for my Soul."
Book Background:
Many of these stories grew out of what I call 'snippets': single scenes written in my writer's notebook. Over the years, I expanded these snippets into full-fledged stories. While I was a student at Long Ridge Writers Group, I submitted "The Journey" and "Food for my Soul" for workshopping. My mentor at the time helped me flesh out the main protagonist for each story. I learned how to pace my stories and how to 'show, not tell'.
My favorite story in this collection is "An Apple for Miss Margaret". I have two autistic children who have difficulties in speech and reading. Sometimes, it takes a special teacher to get past those walls, and those men and women are few and far between. Art is a vehicle to achieve that goal.
"A Patchwork of Life" is my first e-book.
A Patchwork of Life by A. Dameron
Available for Kindle here at Smashwords.com (link is :http://www.smashwords.com/books/view/96914 )
Also available on Scribd.com (http://www.scribd.com/doc/63746351/Patchwork-of-Life-Collection?view_full=1#
Smashwords site: http://www.smashwords.com/profile/view/mamajava1
Author Website: http://writermum1.yolasite.com